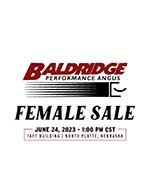 Baldridge Performance Angus Female Sale
Saturday, June 24, 2023 • 1:00 p.m.
at the Taft Building in North Platte, NE
View Sale Book
Sale Update Sheet
Sale Order
Penning Map
Request A Copy of the Sale Book

---
Welcome to Baldridge Performance Angus home on the Web. We invite you to tour our Web site and learn more about our operation and our breeding program. We also welcome you to visit our operation in person anytime you're in our area.
About Us
We are a family-owned business with roots in registered Angus cattle going back over 40 years. We currently calve over 800 registered Angus annually and are headquartered in the Platte Valley of west-central Nebraska where our cow herd is wintered. Then they are moved to summer pasture in the nearby Nebraska Sandhills where they range in large pastures typically requiring 10+ acres per cow/calf pair. We hold an annual production sale each year, selling bulls on the last Saturday of January. The philosophy behind our breeding program is outlined in the Goals of Our Program.
Goals of Our Program. . .
... are to provide our customers with the most progressive genetics possible. Genetics that excel in the economically important traits of efficient beef production. To us that means growth, fertility, calving-ease, maternal and carcass traits. And these traits should come in a functional, sound, easy-fleshing and gentle package. We rely on EPDs, visual appraisal and individual performance to guide us in the selection process. We also rely on artificial insemination (AI) and embryo transfer (ET) to expand the impact of elite bulls and females on our program. Our commitment to reaching our genetic goals includes ongoing investment in elite genetics through semen from outstanding sires and the addition of superior producing cow families to our program.
In addition to the goals of our breeding program, we know our future and success depends on customer satisfaction. Repeat customers, long-standing relationships and real genetic value are what we want to produce.